Best Hotels in County Waterford for 2023
Choose from over 1,000,000 unique hotels, apartments & villas around the world
Free cancellation on most hotels when you book with ebookers!*
Hotel deals in County Waterford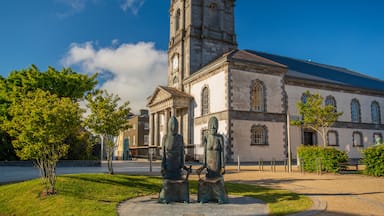 Waterford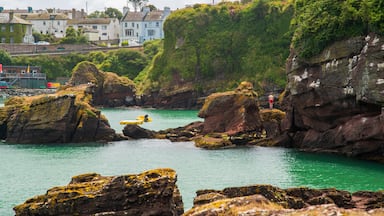 Dunmore East
Featured Hotels in County Waterford
Don't see what you're looking for?
See all available properties in County Waterford
View all properties
Lowest nightly price found within the past 24 hours based on a 1 night stay for 2 adults. Prices and availability subject to change. Additional terms may apply.
City Guide – Waterford

Since the Vikings landed in Waterford over eleven hundred years ago, Ireland's oldest city has welcomed visitors with an amazing landscape and unique buildings. Sitting comfortably at the south-east corner of Ireland, it attracts visitors interested in the outdoors as well as a range of business and leisure tourists drawn to its golf courses, museum and Waterford's famous crystalware.

Weather

With a climate similar to that of the south-west of England, Waterford experiences higher temperatures and lower rainfall during July and August than other parts of the country. Its beaches are suitable for sunbathing and water sports from late spring. However, a county doesn't get to be this green without plenty of watering, so be prepared for some rain.

History

Founded by Vikings in 914AD and conquered by Anglo-Normans in the 12th century, it was later deemed a royal city, which attracted rich merchants, increasing its status and wealth. In spite of experiencing the travails of lawless neighbours, Waterford weathered the 14th and 15th centuries to emerge as a thriving port and as the first city in Ireland to use cannons as a permanent defence. In 1649, Cromwell attempted to take control, vowing to do it 'by Hook or by Crook' – the Hook Lighthouse or the western village of Crook.

Where to Stay

Waterford Harbour

For budget travellers the Waterford Marina Hotel offers three-star accommodation from £63 per room per night and is popular with both corporate guests and those grabbing a bit of leisure time, alone or with family. With Wi-Fi, secure parking, a beautiful view of the river and a good range of food, it's an ideal base from which to explore, and the peace and quiet is invaluable for those with paperwork to finish.

City Centre

You're never far from the river in Waterford, and in the city centre, close to the shops, bars and attractions, there are several hotels and guest houses. Dooley's Hotel in Merchant's Quay has a pub downstairs, a well-liked on-site restaurant and large, comfortable rooms with en-suite bathrooms. At a starting price of £55 per room, per night, this is quite a bargain.

Near the bus and train station you will find The Fitzwilton, Waterford's newest boutique hotel. Its Met Bar is a popular place to unwind over cocktails and the Waterford Crystal factory or the beaches of Dunmore are within walking distance. Rooms are available for around £73 per night.

Attractions

The Harbour

Waterford boasts a picturesque, thriving harbour, with a view of Wexford's famous Hook Lighthouse. The ancient walls dominate the inland scenery, with Reginald's Tower – a 13th-century round tower – drawing the eye more than any other building.

 

The People's Park

The People's Park in the city centre houses a café that was once the park-keeper's accommodation but is now just a great place to rest your legs and grab a bite. There are play areas for children and some unique structures you'll want to photograph, including a highly decorative bridge and a fascinating, spherical water feature.

Waterford Crystal

Since Waterford is synonymous with crystal, it would be remiss to leave without a stop at the factory, where you can take a tour, watch pieces being created and end your visit at the shop to pick up souvenirs.

Shopping

As well as seeing the sights, you'll want to shop and experience some local entertainment. The main shopping area, by the quay, is called Merchant's Quarter. Its two shopping centres – George's Court and City Square - have a good mix of high street stores, such as Debenham's and River Island, and local high-end craft outlets, including Waterford Crystal and Hibernian Gifts, which sells Irish-designed jewellery and ornaments. On Saturdays, a temporary market springs up, with craft stalls and bargains.

Nightlife

Ruby's Nightclub in John's Street in the city centre is like a magnet; no matter where you start the night, all roads lead to Ruby's! With a relatively small dancefloor, it can fill up quickly, but the atmosphere is lively and, being in an area full of bars and nightclubs, you can always find somewhere else, such as Revolution, which has a disco and showcases live bands.

Getting There

With an airport, large train and bus stations and easy access via road from Ireland's major cities, Dublin and Cork, Waterford presents no travel problems. While Waterford's airport welcomes flights from the UK, visitors from the continent are more likely to arrive at Dublin, a mere two-hour drive away and well-served by car-rental companies.

There's no shortage of reasons to time your trip carefully, with festivals including the Daytripper Music Festival in July, the Imagine Arts Festival in October and the joyous Spraoí Street Arts Festival in August.

However, one of the best things about Waterford is that there's always something happening; whether you're booking early to bag a bargain, or booking now because you just can't wait, now is the time to use our search tool and set your sights on our Waterford hotels.

 
Recent County Waterford hotel reviews by travellers like you
ebookers verified reviews
5/5 Excellent

Luxury and comfortable

"This hotel ticked all the boxes. Beautiful, great amenities such as spa , pool, sauna, Michelin Star Restaurant beautiful views from our room and all throughout the hotel. Warm lovely staff. "

A verified traveller stayed at Cliff House Hotel

Posted 2 months ago

Cliff House Hotel