Best Hotels in Kiribati for 2022
Choose from over 1,000,000 unique hotels, apartments & villas around the world
Free cancellation on most hotels when you book with ebookers!*
Hotel deals in Kiribati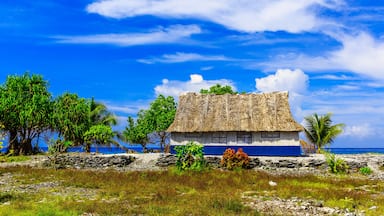 Fanning Island
Featured Hotels in Kiribati
Terau Beach Bungalow
Tebero Road, Abaiang, Kiribati
38.23 km from city centre
During your stay at Terau Beach Bungalow, you'll be close to Abaiang Catholic Church. Free breakfast, free self-parking and a free manager's reception are available.
14.04 km from city centre
During your stay at Fema Lodge, you'll be within walking distance of Kiribati Parliament Building. You'll find features such as free self-parking, plus breakfast (surcharge) and dry cleaning service.
Lowest nightly price found within the past 24 hours based on a 1 night stay for 2 adults. Prices and availability subject to change. Additional terms may apply.
How ebookers can help to find you hotels in Kiribati
There are so many places to stay in Kiribati that it can be tricky to whittle things down. This is where ebookers comes in: we can show you the best hotels in Kiribati in a matter of moments. You'll be able to see all the hotels on a detailed map, so you can check how close they are to various landmarks. In fact, you can specifically search for hotels that are close to specific attractions, as well as filtering your search for lavish, high-end hotels or comfortable, cost-effective accommodation. Our informative hotel descriptions, which include photos of the various pads and details on rooms and amenities, will help you make the right decision for your getaway.
How to get to your Kiribati hotel
Whether you're coming from near or far, you can make use of ebookers to organise your journey to your hotel in Kiribati. Searching for flights to Kiribati will instantly show which airlines and routes are available for your chosen travel schedule. You can then look up our car hire deals and arrange to have a vehicle waiting for you when you arrive, so you can go seamlessly from the airport to your hotel. Having your own wheels will also make it easy to travel around and visit more remote towns and villages, as well as rustic restaurants that might be out in the rural areas. You have a whole, exciting country to explore, after all.
What to do near your hotel in Kiribati
Let's face it, one of the joys of being on holiday is doing as little as possible. Even just lounging around your hotel is an activity in itself. Of course, there's so much to see in Kiribati, and if you'd like some inspiration then check out our Things to Do tool. This will lay out the attractions and major sights around your Kiribati hotel, so whether you're just looking to wander and sightsee, or explore cultural attractions and places to take the whole family, ebookers will have you covered.