Best Hotels in Nakhon Phanom Province for 2022
Choose from over 1,000,000 unique hotels, apartments & villas around the world
Free cancellation on most hotels when you book with ebookers!*
Hotel deals in Nakhon Phanom Province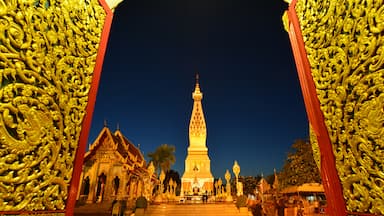 That Phanom
Featured Hotels in Nakhon Phanom Province
Don't see what you're looking for?
See all available properties in Nakhon Phanom Province
View all properties
Lowest nightly price found within the past 24 hours based on a 1 night stay for 2 adults. Prices and availability subject to change. Additional terms may apply.
Using ebookers to pick the perfect hotel in Nakhon Phanom Province
Now that you're all set to visit Nakhon Phanom Province, it's time to consider where you'd like to stay during your getaway. This is where ebookers makes life easy. By using our simple search tool, you can check out the best hotels in Nakhon Phanom Province in seconds. You can view your potential pads on a detailed map of the state, which will let you see exactly where they lie in relation to various landmarks and attractions. Speaking of which, you can even search for places to stay near specific sights. We also have concise hotel descriptions, featuring photos and write-ups about the guestrooms and amenities, so whether you're looking to treat yourself to a high-end hotel, or want somewhere that will fit a tighter budget, you can make an informed choice in no time.
Planning the journey to your Nakhon Phanom Province hotel
No matter where you happen to be travelling from, ebookers makes it a cinch to plan the trip to your hotel in Nakhon Phanom Province. You can search for flights to , and immediately see which airlines and routes are on offer for your chosen dates. After comparing prices and settling on the right flight, you can then arrange to have a vehicle waiting for you when you get there. Just take a look at our car hire deals and pick out a deal you like. One of the plus points of hiring your own car is it'll let you get out there and see the more remote or rustic areas of Nakhon Phanom Province, where hidden gem restaurants and attractions await.
Enjoying yourself near your hotel in Nakhon Phanom Province
When you're on holiday, you'd be forgiven for wanting to spend quality time relaxing in your guestroom or lounging elsewhere in the hotel. When it comes to exploring Nakhon Phanom Province itself, we've got you covered with some great ideas for your to-see list. Just go over to our Things to Do tool, which will reveal some popular sights, landmarks and attractions near your Nakhon Phanom Province hotel. Whether you're here to relax and amble around, or want to make a beeline for cultural and historic hubs, ebookers makes it easy to plan your ideal stay.
Recent Nakhon Phanom Province hotel reviews by travellers like you
ebookers verified reviews
5/5 Excellent
"It's OK for travelers those who find the property near the city of Nakhonpanom with cleanliness / convenient and friendly staff. recommended! "
A verified traveller stayed at Fortune River View Hotel Nakhon Phanom
Posted 7 months ago
Fortune River View Hotel Nakhon Phanom
5/5 Excellent
"Clean room. Staffs are helpful. Good location for river view. "
A verified traveller stayed at Fortune View Khong Hotel Nakhon Phanom
Posted 1 year ago
Fortune View Khong Hotel Nakhon Phanom