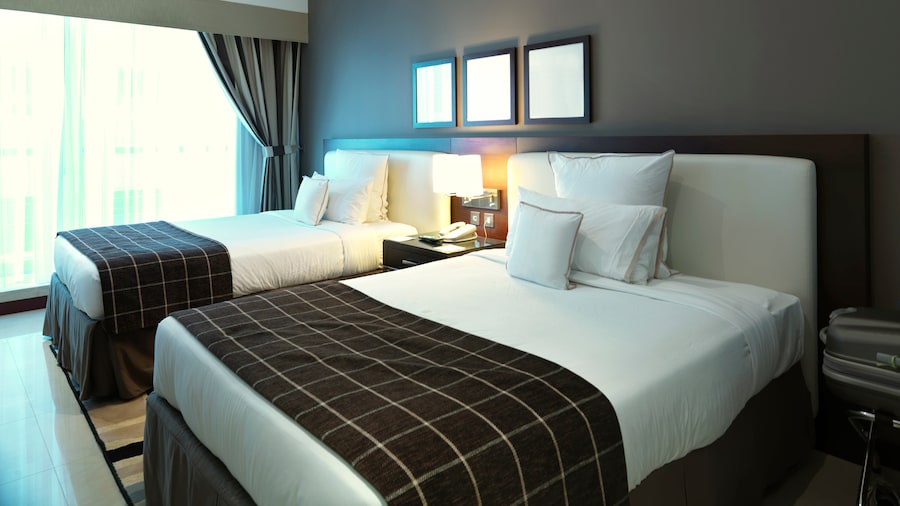 Get cheap holidays to Okayama Prefecture's top cities
How ebookers can land you great Okayama Prefecture holiday deals
Eager to get stuck into your holiday in Okayama Prefecture? By using ebookers, you can ensure everything goes smoothly by booking both your flight and accommodation ahead of time. Our wide variety of Okayama Prefecture holidays includes options for all budgets, whether you're ready to pamper yourself with a luxurious getaway, or are just after a comfy place to crash in between exploring the area. As well as being able to sort out your transport and hotel, you can also use ebookers to get some inspiration on how best to spend your time during your exciting getaway.
Cutting costs on holidays in Okayama Prefecture
As ebookers is constantly updated with the latest and best prices on Okayama Prefecture holiday deals, you know you won't be paying over the odds through our service. Being flexible with your travel dates can also help bag the biggest bargains, as prices do vary day by day. Just input your dates and look at the various hotels in Okayama Prefecture on offer – the photos and descriptions on ebookers will help you decide on the ideal pad. Then, having picked your accommodation, you can select the right flight – we'll highlight the cheapest and quickest for you. As an added bonus, you can save more by booking your complete Okayama Prefecture holiday deal through ebookers.
How to make the most of your Okayama Prefecture holidays
Picking your flights and accommodation is one thing, but for complete peace of mind, you can also arrange to have your own transport waiting for you when you arrive. There's a whole state to discover, after all, and there's no better way to feel like a local than having your own car. Take a look at our car hire deals to see what's on offer. And if you want to be absolutely sure you don't miss out on the essential sights, check our Things to Do tool, which will lay out the various landmarks and attractions that are worthy of your attention.
Top things to do in Okayama Prefecture
Okayama Holidays
From flight tickets to accommodation and every remarkable adventure in between, ebookers can make your ultimate Okayama break come true.
Envision your perfect holiday as you look through our large selection of airline partners and over 500,000 properties internationally.
Our Price Guarantee means that if you book a Flight + Hotel package via ebookers, and then spot a cheaper deal within 48 hours pre check in, we'll meet it and repay you the difference. So what are you waiting for?
Now's the time to get stuck into your travel bucket list. Whether it's a freezing mountain peak or a beachside retreat, we'll help you to kindle your wanderlust. Terms and Conditions apply.
Holidays in Okayama
Say yes to that holiday and immerse yourself in Okayama, a city bursting with sights and sensations that are just waiting to be discovered.
The population of this city is 650,000.
If you journey 340 miles east of Okayama, you'll get to the national capital, Tokyo. If you venture 17 miles southeast, you'll hit Tonosho.
The Oriental Museum and Okayama Castle are some of the most well-known attractions here.
The entire family is sure to enjoy a visit to Washuzan Highland and Omocha Okoku. Young ones still bouncing off the walls? Keep the excitement rolling with a visit to Okayama South Village and German Forest Kronenberg.
Setting foot in Tamano City Maritime Museum is like taking a dive into the ocean, but without needing to use a wet suit! Here you'll happen upon all kinds of intriguing aquatic life.
Witness the wonder and amazement in your kids' eyes as they get up close to the fascinating animals at the Ikeda Zoo. The Shibukawa Zoo also offers a fun and educational experience.
Feel your seat shake as the skilled racers at the Okayama International Circuit fight it out for the number one spot. These finely-tuned engines are truly a sight to behold.
If you're a wine connoisseur, you'll want to explore one of the area's wineries. You can sample some regional specialties at the Sapporo Wine Okayama Winery.
This area takes its plant conservation seriously, so there are a variety of places where you can go and learn all about botanic species from both local and international landscapes. A stroll through the beautiful gardens at the Handayama Botanical Garden and Kinko Garden is not to be missed. For those who are more dedicated, the Miyama English Garden and the Shurakuen Garden also have some unique floral exhibits.
There's no need to venture deep into the forest to experience a bit of greenery. Korakuen Garden and Tsusen-en Garden National Park are just two of the impressive recreational areas you'll discover amid this concrete jungle. You can also sit back with a newspaper and let the world pass you by at Washuzan Hill and Kamogata House Park.
Can I take a walking tour? Anything interesting on this weekend? You'll discover the answers to almost any question you might have about your visit at Takebe Town Tourist Bureau.
Discover the best vantage points to take in the swirling waters of Ashio Fall and Kanba Fall.
Keep your eyes peeled for interesting-looking birds or simply enjoy staring at the mirror-like water at Mitani Fall and Okutsu Valley. If you're attempting to hit every natural waterway in the region, Mitani Fall is another to circle on your map.
You probably already know about its must-see museums and malls, but don't forget that Okayama has some spectacular natural havens too. Maki Cave and Tomata Dam are two to think about. Okayama Prefectural Forest Park and Kagami Dam are two more that are worth visiting.
Whether you'd like to expand your knowledge or just take a break in the peaceful surroundings, the Hayashibara Museum of Art and the Okayama Prefectural Museum of Art ought to fit the bill. Remember to ask about one-off events! Want more? Also head to the Yumeji Art Museum and the Ohara Museum of Art.
The world of science never ceases to captivate us. Broaden your knowledge on the latest in innovation and technology at Bisei Observatory and Ryuten Observatory Park. For even more mind-blowing experiences, add the Life Park Kurashiki Science Center and Okayama Astronomical Museum to your itinerary of discovery.
Whatever style of art floats your boat, there's a good chance you'll find it in Okayama. Why not begin your day of gallery hopping at the Manekineko Museum of Art and the Kojima Torajiro Memorial Hall? If you've got time for more, continue onwards to the Bizen LatinAmerica Museum and the Takahashishi Nariwa Museum.
Calling all history buffs! You can learn more about the rich and varied past of the area at the Mimasaka City Museum of History and Folklore and the Takahashi History and Art Museum. Also consider checking out the eye-opening exhibits which endeavour to bring history to life at the Katsuyama Local Historical Museum and the Okayama Prefectural Museum.
Step back in time with an outing to the Okayama University and the Momotaro Statue. They're fabulous places to fully immerse yourself in Okayama's history. Bikan Historical Area and Kagura Folklore Museum are also well worth a visit.
Bitchu Matsuyama Castle looks like it's leapt from a children's fairytale. Stop by and imagine what it would've been like to wake up every day in this grandiose building. Ki Castle and Tsuyama Castle are two more that are worthy of a few snaps.
No matter what you believe in, Kibitsu Shrine and Achi Shrine are great places to nurture your spiritual side. If you want to explore more, keep going to the Yomeirazu Kannon Temple and Anatoyama Shrine.
When you are visiting new places, keep in mind that it's sometimes the lesser-known attractions that you'll most fondly remember once you have returned home. Two places which fall into that category in Okayama are Great Seto Bridge and the Tsuguro Riverside Park. Canal Area and Osayama Autocamp Ground are two more options to consider.
Best Okayama Prefecture hotel deals for your holiday
Don't see what you're looking for?
See all available properties in Okayama Prefecture
View all properties
Lowest nightly price found within the past 24 hours based on a 1 night stay for 2 adults. Prices and availability subject to change. Additional terms may apply.
Plan your trip to Okayama Prefecture