Vietnam Campervan Holidays
Choose from over 1,000,000 unique hotels, apartments & villas around the world
Free cancellation on most hotels when you book with ebookers!*
Top cities with Caravan Parks in Vietnam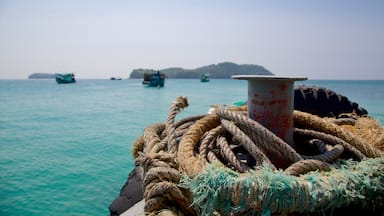 Phu Quoc
Featured Caravan Parks in Vietnam
Ankroet Camp Da Lat
Thon Da Nghit, Xa Lat, Lac Duong, Lam Dong, 670000
During your stay at Ankroet Camp Da Lat, you'll be close to Lonely Pine Tree. Free WiFi in public areas, free self-parking and a restaurant are available. This 2-star campsite has 18 accommodations. Enjoy your stay with amenities like free WiFi in each accommodation.
Lavibeach
An Hai, Tuy An, Phu Yen, 0084
During your stay at Lavibeach, you'll be close to Hon Yen. Features include free WiFi in public areas and free self-parking, plus a restaurant. This campsite has 8 accommodations. All accommodations offer free WiFi and safes.
Nay Bungalow Dalat
24 Khe Sanh, Da Lat, Lam Dong, 670000
The price is £26 per night
During your stay at Nay Bungalow Dalat, you'll be within walking distance of Thien Vuong Pagoda. Features include free WiFi in public areas and free self-parking, plus breakfast (surcharge). Built in 2020, this 2.5-star campsite has 4 accommodations. All accommodations offer free WiFi and patios.
Lowest nightly price found within the past 24 hours based on a 1 night stay for 2 adults. Prices and availability subject to change. Additional terms may apply.
A family holiday to remember in Vietnam Caravan Parks
If you think travel should be about making priceless memories, then it's likely you'll love what's on offer from Vietnam Caravan Parks. Offering families a place to stay that's far more humble and down-to-earth than ritzy hotels and resorts, these budget-friendly spots are sure to have you looking back with nostalgia as soon as you've returned home. Days can be spent exploring the more natural side of Vietnam, evenings are for sizzling up BBQs as the sun sets, and nights for chatting away under the twinkling stars. No wonder it promises to be an experience to remember.
And it doesn't end there. Many Caravan Parks offer other fun-loving extras. Games rooms and pools, playgrounds and picnic facilities, arcades and on-site restaurants aren't at all uncommon, so it's likely you'll discover loads to keep the whole crew entertained as you settle in your cosy Vietnam caravan park pad.
Location, location, location in Vietnam Caravan Parks
If you're craving a trip where adventure and outdoor exploration take centre stage, Vietnam Caravan Parks might just hit the nail on the head. Aside from checking all the boxes for a wholesome family holiday, they also offer locations that are more off-the-beaten-track than you'd usually get from a centrally located hotel. That means you can get up-close and immersed in Vietnam nature with these sorts of stays, away from the hustle of city life. That's perfect if you were planning on packing the hiking boots and the walking gear, don't you think?
Finding a bargain in Vietnam Caravan Parks
If you're running a tight ship on the budget front, look no further than Vietnam Caravan Parks. With their simple, family-friendly stays, ranging from grassy plots to pitch the tent to static wagons with self-catering kitchens, there's a whole spectrum of accommodation types to pick from in each place. It's likely that none of them will break the bank, with average rates in establishments like these often coming in at just a fraction of the price of large-scale resort hotels. And that's not even mentioning all the dosh you'll save by swapping out visits to big-name attractions with the simple, free enjoyments of the great outdoors.
Search ebookers to choose the best Vietnam Caravan Parks
Be sure not to miss out on the best Vietnam Caravan Parks by searching ebookers well in advance of your travels. Not only can our intelligent results pages help you filter out parks that don't suit your needs, but you can also utilise our dynamic travel map. That lets you zoom in and out of various locations to reveal the top-rated stays that are near the areas at the top of your Vietnam bucket list. So, no matter if you're on an outdoorsy mission to escape the city or just want to settle in for a week of family bonding close to nature, if there's the perfect caravan holiday park on the menu, you're sure to find it.
What price range are Vietnam Caravan Parks?
Caravan Parks in Vietnam are available at a variety of prices, ranging from £26 to £26.
How many Caravan Parks are there in Vietnam?
ebookers has 14412 available options for Caravan Parks in Vietnam to choose from.
How cheap are Caravan Parks in Vietnam?
Visitors to Vietnam can book Caravan Parks starting at just £26.