Discovery: that's the precious travel resource that Albania has in abundance. The bite-sized Balkan country might be gaining more fans every year but it still has plenty of underexplored bits – and they're all the more discoverable with your own set of wheels.
As well as quirky towns and secret little beaches, take to the road to discover fearsome mountain ranges sheltering wild-flower-flecked meadows and hidden villages where ancient 'vendetta towers' (once sheltering menfolk from furious blood feuds) still stand.
Why, even sharing the roads in Albania promises a thrill, given some fellow drivers' individualistic interpretation of the traffic rules. Steer clear of their fondness for raki and sound your horn on mountain turns, though, and you should be all right. Anyway, don't let a little hairy driving put you off these sample itineraries revealing some of the most memorable travel in Europe right now.
Itinerary 1: A day-glo capital, Ottoman splendour and beach life, Albanian style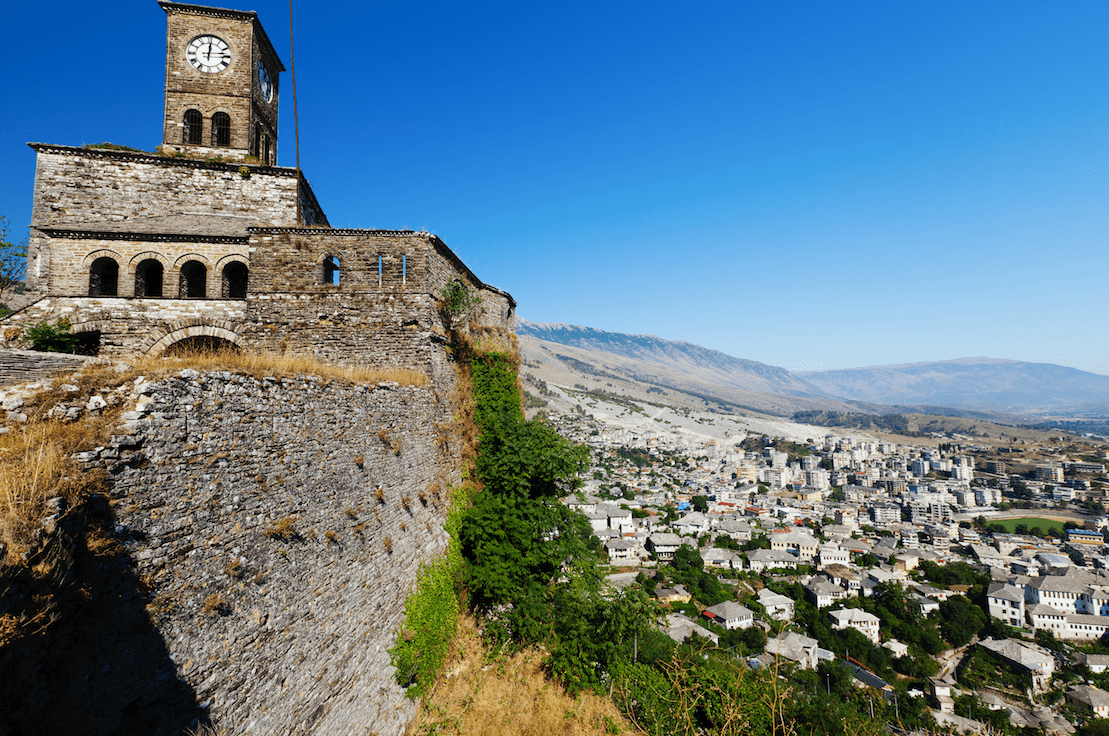 Day 1: Tirana – Durrës
Start in Albania's funky capital, Tirana: a ramshackle but lively and literally very colourful place thanks to the day-glo-hued buildings conceived by artist-turned-mayor – and now prime minister – Edi Rama. The eating's good: try an Albanian or Italian meal before hitting the road for the hour or so's drive to seaside Durrës, to spend the night.
Day 2: Durrës – Berat
A former capital, Durrës represents an intro to Med living, Albanian style. The town's 10km beach is nice enough, but a more compelling attraction is the Roman amphitheatre and top-class archaeological museum.
Sated, toodle on south to Berat – an appealing town with its mountain setting, cobbled streets and hillside stacked with elegant Ottoman dwellings.
Day 3: Berat – Gjirokastër
Jump in your vehicle for a three-hour trip through the heart of Albania to one of the country's most striking and beautiful settlements. The town is dominated by its thousand-year-old fortress but visitors also admire more grand Ottoman-era dwellings.
Day 4: Gjirokastër-Sarandë
Welcome, next, to the touristy centre of the Albanian Riviera – you'll barely have room to sweat in Sarandë in the summer but the town is good for Albanian people-watching and as a base or exploring more secluded beaches around the town.
Photos of Communist Albania in the Ethnography Museum also offer a compelling view of that strange and often tragic period.
Day 5: Sarandë – Korçe
Pass through some lovely countryside to reach one of Albania's cultural centres, Korçe. Spruced up in recent years, it has a huge renovated Orthodox cathedral, impressive with its twin flanking towers, and a spellbinding Museum of Medieval Art
Day 7: Korçe – Pogradec – Tirana
Home stretch: on the three-hour drive back to Tirana, stop off at the lakeside town of Pogradec. On the shores of Lake Ohrid, one of Europe's deepest bodies of freshwater, the town has a stunning mountain-ringed location and was a tourist retreat during the eccentric rule of the Communist despot Enver Hoxha. A little shabby now, it has nonetheless a retro-holiday appeal and the trout in many waterside restaurants is spanking fresh.
Itinerary 2: Seaside delights, transporting ruins and a natural spring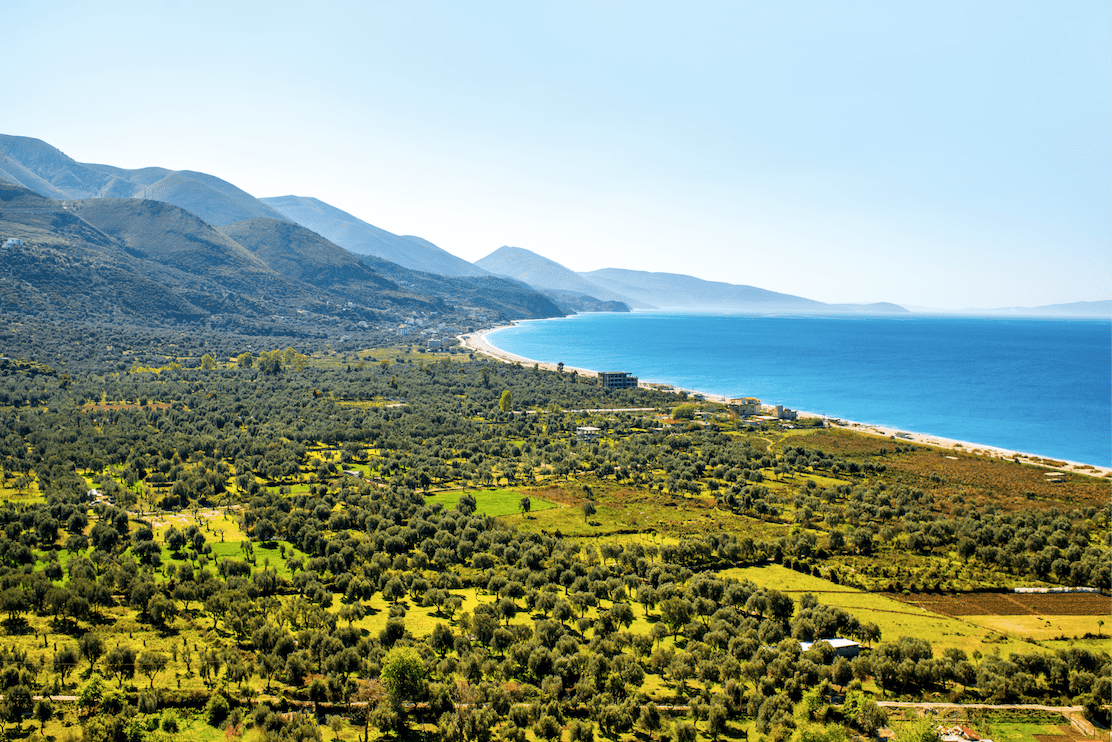 This route takes you straight to the Albanian Riviera, if a dip in the sea is your first priority, and you can visit more of Albania's most compelling sights on the way.
Day 1: Tirana – Sarandë
After spending a day or two in buzzing Tirana (there are plenty of fascinating Communist-period sights here, too, if that appeals, including dictator Hoxha's crumbling former pile) drive to the central seaside town of Sarandë. You could break the four-hour journey with a stop at Berat – named 'the town of a thousand windows' for its generously glazed Ottoman-era houses.
Day 2: Butrint
About 30 minutes' drive south of Sarandë, Butrint is a transporting ancient site settled long before the Romans came along a few centuries before Christ. Take advantage of your wheels and come at sunrise, before the tour groups, when time travel here feels eminently possible.
Day 3: Lukove
Time to relax: motor for an hour or so from Sarandë in the opposite direction – north – to the still-lovely beach of Lukove. The waters here are an improbable aquamarine, forested hills surround you and development is confined mostly to low-key bars and restaurants.
Day 4: Blue Eye Spring
Another watery day – after a 40-minute drive inland, this time – to marvel at this transporting scene: a 50-metre-deep natural spring, surrounded by thick woods, where light-blue water at the edges darkens at the centre almost to black.
Day 4: Borsh
For another swim day, drive for an hour or so north to Borsh. You'll definitely be able to find a stretch to yourself along this 7km, white-stone beach that's still pretty gorgeous despite the beginnings of aesthetics-blind Albanian development.
Days 5-6: Borsh – Gjirokastra – Tirana
On the home stretch to the big smoke, check out one of Albania's handsomest towns, Gjirokastra, with its storied Ottoman dwellings conjuring up a very different past.
Itinerary 3: Alpine visions
That the Albanian Alps are also known as 'the Accursed Mountains' gives you a clue about what remains a sometimes remote part of the country. Don't worry, though: the only danger you're likely to face here is getting lost and, these days, visitors are far more likely to exclaim about the region's beauty than rain curses upon it.This is still, to a large extent, backcountry travel, though, and any fixed itinerary is sure to be broken. Self-drivers should follow their own, flexible route, but highlights you might want to include are:
Shkodra
Consider spending a night or two before your journey to the Alps in this northern city, one of the most attractive in the country. It's among the most ancient cities in Europe and today is known for its literary associations and its inhabitants quite evident habit of getting around on bicycles.
Lake Koman
By far the most picturesque entrée to those accursed mountains is on a ferry (which carries cars) through the canyon of Lake Koman. Pass by waterfalls, through thick forest and by far-flung villages – this is renowned as one of the most spectacular riverboat passages on the planet.
Theth and Valbona
It would be hard to beat the dramatic setting of Theth, in a glowing-green valley, surrounded by slate-grey, snow-streaked mountains. The village really does look like something from a fairy tale, and, yes, probably one by the brothers Grimm and probably involving wolves.
Even though there is a vendetta tower (aka blood-feud refuge) in Theth, however, now turned into a quirky museum, the reality is this is a traditional, low-key and welcoming place.
The hiking – the reason most visitors come – around Theth is superb, as it is around nearby Valbona. Also enjoying breathtaking surrounds, the latter village is more given over to tourist accommodation than Theth.
Recently improved transport to this region hastens the arrival of modernity by the day, so get here while it retains its otherworldly charm.
Kruja
On your way down from the Accursed Mountains it would be a shame to miss the birthplace 500 years ago of Albania's national hero, Skanderberg. Still, you needn't dally long in Kruja beyond a visit to the suitably grand Skanderberg Museum before hitting the road again – perhaps with a plastic figurine of the anti-Ottoman rebel on the backseat, bought to fend off the massed vendors who rather call to mind the hordes of his countrymen the man himself once commanded.
Comments
comments
Tagged: Culture