New York's best boutique hotels
When traveling to a city with as much spirit and energy as New York, it makes perfect sense to stay at a restorative boutique hotel. These intimate spaces, with their personalized service and thoughtful attention to detail, will leave you feeling like a very welcome, in-the-know local.
With locations in Downtown Los Angeles, New York, Palm Springs, Portland, Seattle, and Pittsburgh, the Ace Hotel has revolutionized the boutique hotel experience. With reasonable rates, artistic collaborations, and modern-bohemian design, the Ace emits a recognizable energy while adapting to each location. Its New York location, built in 1904, contains two destination restaurants—The Breslin Bar and Dining Room and The John Dory Oyster Bar—along with Stumptown Coffee and the famed lobby bar, where creatives and entrepreneurs mingle and network from day to night.
This Lower East Side gem is hip, accessible, and well tuned to the character of its surrounding historic and artistic neighborhood. This is a low-key place for those who don't mind small rooms but want luxurious amenities mixed with a little edge and excitement. For late night eats, you'll find Katz's Delicatessen around the corner, as famous for its pastrami sandwich as it is for Meg Ryan's iconic scene in "When Harry Met Sally."
Celebrating the heritage of New York's Garment District, Refinery Hotel rooms showcase industrial features like 12-foot ceilings and distressed hardwood floors. Once a hat factory, the space now houses Winnie's Jazz Bar and Club, an intimate venue that will transport you to the glitz and intrigue of Prohibition-era New York.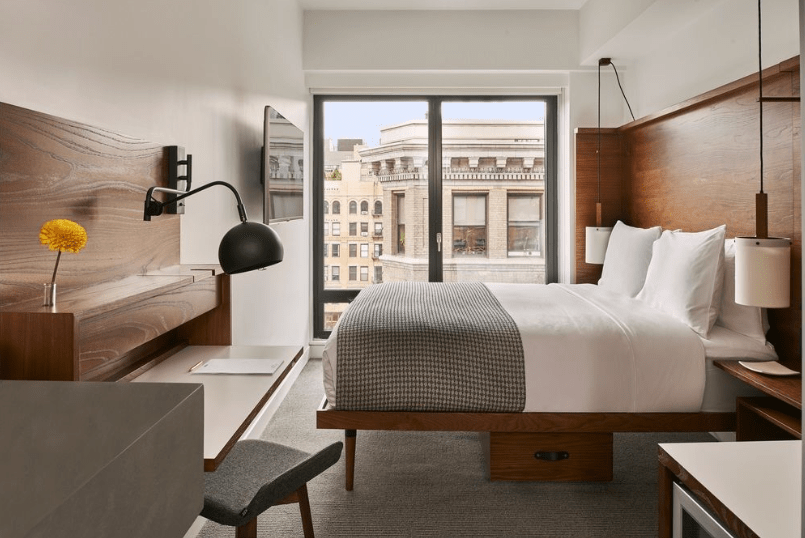 Along with its sister hotel, Arlo NoMad, this SoHo location was highlighted among the Condé Nast Traveler 2018 Readers' Choice Awards. With comfortable rooms that are small but mighty, with plenty of natural light, it's the perfect place to recharge between urban excursions and plot your next move.
The restaurateurs behind two beloved Manhattan brasseries, L'Orange Bleue (now closed) and Jean Claude, have extended their hospitality in opening the Broome Hotel. With eclectic decor including works by SoHo artist and activist Keith Haring, a Moroccan-tiled courtyard, and croissants from the acclaimed local patisserie Ceci-Cela, there is a character and elegance to the Broome that feels très parisien.
Just steps from The New York Public Library and two blocks from Times Square, this Midtown hotel occupies an elegantly restored 1924 landmark building. With its acclaimed Asian-fusion restaurant Koi, attention to luxurious details like Egyptian cotton linens and cashmere blankets, and its proximity to the European-inspired Bryant Park, this hotel offers a serene refuge from the city bustle.
This cozy, historic hotel built in 1900 has hosted scores of writers, artists, and bohemians of all sorts. Revamped under new ownership in 2013, it retains the vibrant spirit that inspired some of Jack Kerouac's best work. With affordable rates, a library filled with Beat novels, and other thoughtful details, it provides an authentic and enlivening Greenwich Village experience.
It's Renaissance meets Hollywood glam at this legendary hotel which first opened its doors in 1925. Located in Manhattan's uber-hip Flatiron District, the likes of Humphrey Bogart, Babe Ruth and Madonna have all frequented this hotel which does not hold back on opulence. Red velvet drapery and sea-blue walls in guestrooms make a bold statement and museum-worthy artworks by Andy Warhol and Keith Haring spruce up the common areas. Guests are also given access to Gramercy Park, New York's only private park.