Negeri Sembilan Pod Hotels
Choose from over 1,000,000 unique hotels, apartments & villas around the world
Free cancellation on most hotels when you book with ebookers!*
Top cities with Pod Hotels in Negeri Sembilan
Port Dickson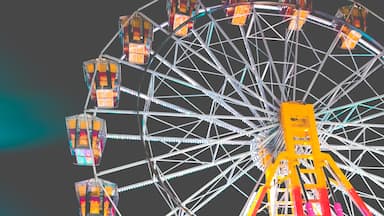 Seremban
Featured Pod Hotels in Negeri Sembilan
Mango's Park Port Dickson
Lot 968, Batu 3, Jalan Pantai, Port Dickson, Negeri Sembilan, 71000
The price is £238 per night
£238
per night
27 Mar - 28 Mar
During your stay at Mango's Park Port Dickson, you'll be within walking distance of Port Dickson Ostrich Farm. Free self-parking and a bar are available.
Don't see what you're looking for?
See all available properties in Negeri Sembilan
View all properties
Lowest nightly price found within the past 24 hours based on a 1 night stay for 2 adults. Prices and availability subject to change. Additional terms may apply.
How to find your Negeri Sembilan capsule hotel?
Capsule hotels are among the most popular accommodation options for holidays to destinations like Japan, but you'll also find them in Europe and North America, as their popularity is increasing around the world. When you're looking for a capsule hotel in Negeri Sembilan, you can expect a unique experience that's particularly appealing for travellers on a budget. When you stay in a capsule hotel, you can enjoy nights sleeping in a cosy pod rather than having an entire hotel room or rental accommodation. Discover how you can find a capsule hotel in Negeri Sembilan that works for your desired holiday experience.
How to get the best deal on a capsule hotel in Negeri Sembilan
When you're booking a capsule hotel in Negeri Sembilan, Ebookers can help you get the best deal. You'll find a wide selection of 1 different hotel bookings ranging from £238 to £238. On our search results page, you'll find options clearly displayed with the price per night, the location and a rating showcasing how other previous travellers felt about their stay. When you click on a particular stay, you can explore their offerings further, as certain amenities are highlighted.
Why pick a capsule hotel in Negeri Sembilan?
You'll find several benefits when booking a capsule hotel in Negeri Sembilan. The first and most widely popular benefit is the cost. A capsule hotel is a budget-friendly solution that helps you reserve your holiday budget for the multitude of attractions in Negeri Sembilan rather than spending a significant portion on your accommodation. Additionally, capsule hotels are remarkably convenient, especially if you don't plan to use them for much more than sleeping. Given the relatively short stays in capsule hotels for most guests, you'll also have an easier time booking at the last minute.
Good to know when booking capsule hotels in Negeri Sembilan
Before you book a capsule hotel in Negeri Sembilan, there are a few factors to keep in mind. For the most part, the pods are designed for a single person and no more. You'll find some that allow an adult parent to stay in the same pod with their young child, but that's about it. Two adults can't book a single pod, but guests are free to book pods that are next to each other. Additionally, capsule hotels function similarly to hostels when it comes to the washroom. Toilets and showers are shared in communal spaces, as are the dining areas.
Flexibility and cancellation with capsule hotels in Negeri Sembilan
At Ebookers, you'll find quite a few rentals that offer flexibility when you travel. In fact, capsule hotels by their very nature are quite adept at this, considering so many travellers use them for short stays. When looking through your search results, keep an eye out for the phrase 'free cancellation', as it will be featured predominantly on the preview before even clicking on the property itself.
Destinations with Pod Hotels
Other Negeri Sembilan Accommodation Types